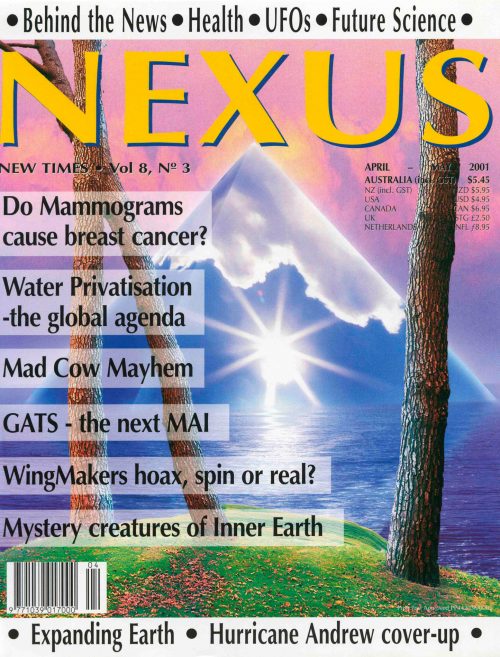 Volume 8, Number 3 – downloadable
$6.60
Volume 8, Number 3 complete issue downloadable pdf file.
Description
LETTERS TO THE EDITOR
Comments from readers on NEXUS-related topics.
GLOBAL NEWS
News they don't want you to read, including an alleged NSA override of an Antarctic scientific mission, and signs of a high-level cover-up surrounding the tragic Port Arthur Massacre.
MAD COW DISEASE: GLOBALISED DISASTER
By Dr Lynette Dumble. Organophosphate pesticides and animal proteinŠ—–enriched feeds are blamed for the BSE outbreaks which have now spread from the UK into Europe and far beyond.
THE GATS: IN WHOSE SERVICE?
By Ruth Caplan. The General Agreement on Trade in Services, if given the nod, will have devastating effects on local economies and communities, serving only the TNCs in their pursuit of profit.
HYDRODOLLARS: WATER PRIVATISATION
By Susan Bryce. The global push by UN agencies, governments and corporations to privatise water supply/distribution is already being felt by those who are most affected by water shortages and are least able to pay for a resource that was once free.
THE HURRICANE ANDREW COVER-UP
By k.t. Frankovich. The authorities' abject failure to exercise their duty of care before, during and after hurricane Andrew, the worst natural disaster in US history, beggars belief, according to the damning revelations of this blessed survivor.
BREAST CANCER: DETECTION OR DECEPTION?
By Sherrill Sellman. The rise in breast cancer incidence is related to the increasing levels of toxins in our environment as well as the prolific use of X-ray mammography in tumour detection.
SCIENCE NEWS
Tony Cuthbert theorises on how inertia can be overcome to achieve propulsion at the speed of light and beyond, and Robert Adams sets the record books straight on who really invented the transistor.
EARTH EXPANSION: THE DEFINITIVE PROOF
By James Maxlow. Information obtained from studying ocean rock strata and the distribution of ancient flora and fauna confirms that the Earth has been expanding in size throughout its history.
THE DEEP DWELLERS Part 2/3
By Wm Michael Mott. Modern-day reports of mysterious subterranean creatures and humanoids have much in common with descriptions preserved in ancient art, legends and religions the world over.
THE TWILIGHT ZONE
The WingMakers story continues to intrigue, but the slow release of new data and corroborating evidence is frustrating. J. Harmon Grahn summarises the story so far, with his reasoned outsider's perspective on the machinations of the secretive Labyrinth Group.
Books
"Goodbye America!" by Michael Rowbotham
"Captive State: Corporate Takeover of Britain" by George Monbiot
"Unearthly Disclosure" by Timothy Good
"The Perpetual Prisoner Machine" by Joel Dyer
"Bluebird: Creation of Multiple Personality…" by Colin A. Ross, MD
"The Secret Scroll" by Andrew Sinclair
"You Can't Tell The People" by Georgina Bruni
"Awakening the Healer Within" by Howard F. Batie, DM
"Abductions and Aliens" by Chris Rutkowski
"The Atlantis Blueprint" by Rand Flem-Ath and Colin Wilson
"Snitch Culture" by Jim Redden
"The Cosmos of Soul" by Patricia Cori
"Jerry Garcia's Tour of the Afterlife" by Karuna
"The Lost Tomb of Viracocha" by Maurice Cotterell
"The Dance of the Dragon" by Paul Broadhurst and Hamish Miller
Video
"The Free Energy Secrets of Cold Electricity" with Peter Lindemann
Music
"Gypsy Caravan" by various artists
"Tarantata: Dance of the Ancient Spider" by Alessandra Belloni
"Journey with the Sun" by Paul Winter and The Earth Band
"Gagaku and Beyond" by Tokyo Gakuso and Tadaaki Ohno
"WingMakers: Chambers 11Š—–17" "Gardens of Eden" by various artists