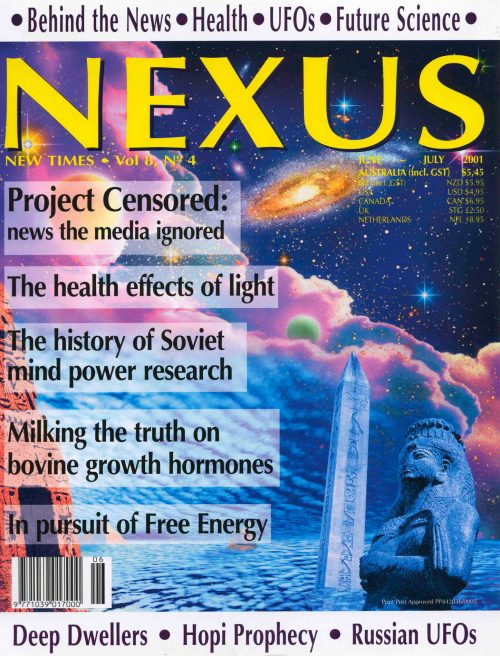 Volume 8, Number 4 – downloadable
$6.60
Volume 8, Number 4 complete issue downloadable pdf file.
Description
LETTERS TO THE EDITOR
Comments from readers on NEXUS-related topics.
GLOBAL NEWS
News you may have missed, including a study that proves irradiated food can cause DNA damage, plans to create a super-currency, and research that vindicates Dr Benveniste's molecular memory find.
PROJECT CENSORED's TOP 25 NEWS STORIES
Compiled by the Project Censored team. Heading this round-up of news stories most ignored by the US media last year is a report on water privatisation moves by corporations and the World Bank.
MILKING THE TRUTH WITH GE HORMONES
By Jane Akre and Steve Wilson. How Monsanto pressured Fox TV not to air a series that questioned the safety of its GE bovine growth hormone is evident in this annotated audio-video script.
US & UN FINANCE WAR IN THE BALKANS
By Michel Chossudovsky. Both sides of the conflict affecting Kosovo and Macedonia are being funded behind the scenes by the Pentagon, with help from the United Nations, NATO and narcodollars.
HEALING POWER OF FULL-SPECTRUM LIGHT
By Joseph G. Hattersley. Contrary to advice from the US EPA, we need regular exposure to full-spectrum sunlight with traces of ultraviolet frequencies in order to maintain good health.
SOVIET MIND POWER RESEARCH – 1/3
By Martin Ebon. By the middle of the Cold War era, the Soviet Union's psychic research program had advanced so far that the United States had to embark on a crash program to try to catch up.
SCIENCE NEWS
By Jerry W. Decker. Free energy researchers are not aiming to create "something from nothing", but to convert gravity and other ambient forces into mechanical or electrical energy that can do work.
WHERE IS ALL THE FREE ENERGY?
By Peter Lindemann, DSc. Free energy technologies are a reality, but their spread has been curbed by the money monopoly, governments, deluded inventors and charlatans as well as a non-demanding public.
THE DEEP DWELLERS Part 3/3
By Wm Michael Mott. Modern-day accounts of alien abductions and Men in Black incidents have parallels with planet-wide legends of mysterious subterranean creatures and humanoids.
THE TWILIGHT ZONE
This issue's "out of this world" news includes Hopi "final days" prophecies compiled by John Hogue, Soviet military reports of underwater aliens and UFOs from George Filer, and the discovery of an ancient Peruvian city as old as Egypt's pyramids.
Books
"Medical Pioneer of the 20th Century" by Dr Archie Kalokerinos
"The Big Breach" by Richard Tomlinson
"The Arcadian Cipher" by Peter Blake and Paul S. Blezard
"The Philadelphia Experiment Murder" by Alexandra Bruce
"Cancer Š—– Cause & Cure" by Percy Weston
"Politics in Healing" by Daniel Haley
"The Land of No Horizon" by Kevin Taylor and Matthew Taylor
"The Free Energy Secrets of Cold Electricity" by Peter A. Lindemann
"Beyond Amalgam" by Susan Stockton
"Stone Age Farming" by Alanna Moore
"Wake Up Down There!" edited by Gregory Bishop
"The Elite Serial Killers of Lincoln, JFK, RFK & MLK", by R.G. Ross
"Sweet Poison" by Janet Starr Hull
"Underwater and Underground Bases" by Richard Sauder, PhD
Video
"A Funny Thing Happened on the Way to the Moon" by Bart Sibrel
CD-ROM
"WingMakers: First Source Š—– Volume 1" from the WingMakers
"Gridworks 2.0" produced by Rod Maupin
Music
"D'éj'_-Blues" by Steve Halpern
"Breathing Rhythms" by Glen Velez
"Buddha and Bonsai Š—– Vol. 3" by Oliver Shanti, Family & Friends
"Space Lullabies and Other Fantasmagore" by Ekova
"Gardens of Eden" by various artists