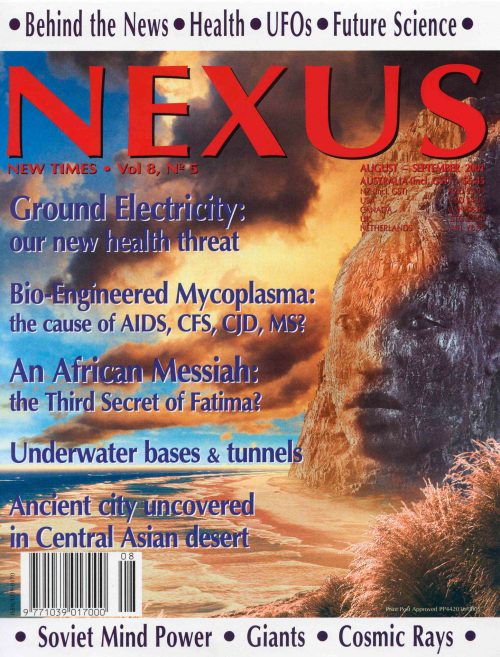 Volume 8, Number 5 – downloadable
$6.60
Volume 8, Number 5 complete issue downloadable pdf file.
Description
LETTERS TO THE EDITOR
Comments from readers on NEXUS-related topics.
GLOBAL NEWS
News you may have missed, including privatisation plans by the UK Ministry of Defence, a proposed treaty to restrict Internet freedom worldwide, and the transgenic contamination of organic food.
THE DANGERS FROM STRAY ELECTRICITY
By Chris Hardie. Antiquated power distribution systems can cause ground leakages of electrical current, a common yet serious problem, with detrimental effects on both people and animals.
MYCOPLASMA AND NEUROSYSTEMIC DISEASES
By Donald W. Scott. The linking pathogen in many neurosystemic degenerative conditions such as AIDS, CFS, MS and Alzheimer's may be a product of bio-engineering in US Government laboratories.
EVIDENCE FOR SECRET UNDERWATER BASES
By Richard Sauder, PhD. According to available documentation and circumstantial evidence, the US military has been able to construct secret, high-tech underwater bases and tunnels for decades.
SOVIET MIND POWER RESEARCH Part 2/3
By Martin Ebon. By 1970, most parapsychology research in the Soviet Union came under the control of the KGB, which had agents operating within a number of key scientific institutions.
HARNESSING COSMIC ENERGY Part 1/2
By Gavin Dingley. The cosmic radiation that permeates our universe has fascinated scientists such as Crookes, Tesla and Moray, who developed devices to tap it for its limitless power potential.
SCIENCE NEWS
John Mount reports on some obscure scientific experiments with the blueprints of life, and Roger Anderton describes the unified field theories of 18th-century physicist Roger Boscovich.
AN ANCIENT CENTRAL ASIAN CIVILISATION
By Linda Moulton Howe. Anthropologist Prof. Fredrik Hiebert is studying the ruins of a Central Asian city nearly 7,000 years old, whose citizens used a written script that is yet to be deciphered.
AFRICAN AVATARS AND THE FATIMA SECRET
By Tom Dark. Among the spiritual masters to have emerged from Africa was the persecuted avatar Simeon Toko, whose arrival was allegedly foretold at Fatima and whose influence continues to grow.
THE TWILIGHT ZONE
By John Mount. References to giants can be found in folklore, art and historical records around the globe, but conclusive evidence of their existence remains hidden or has been mysteriously removed.
Books
"The God Factor" edited by Dr John F. Ashton
"Mysterious Lights and Crop Circles" by Linda Moulton Howe
"The Conspirators: Secrets of an Iran-Contra Insider" by Al Martin
"Giants from the Dreamtime" by Rex Gilroy
"Catastrophobia" by Barbara Hand Clow
"Mysterious America" by Loren Coleman
"The Franklin Conspiracy" by Jeffrey Blair Latta
"Barry & 'The Boys'" by Daniel Hopsicker
"Natural Compounds in Cancer Therapy" by John Boik
"Nature's Pharmacy for Animals" by Harald Tietze
"The Message from Water" by Masaru Emoto
"Captain of My Ship, Master of My Soul" by F. Holmes Atwater
"Fallout: Hedley Marston & the British Bomb Tests" by Roger Cross
"Matrix V: Quest of the Spirit" by Val Valerian
"The Marian Conspiracy" by Graham Phillips
CD-ROM
"The Maralinga Files" by Paul Langley
Music
"Realm of the Ring Lords" by Adrian Wagner
"Nature Space" by Sambodhi Prem
"Every Day is a New Life" by Arto Tuncboyaciyan
"Untold Things" by Jocelyn Pook
"Carnival" by various artists
"Under the Moroccan Sky: Fes Festival of World Sacred Music"