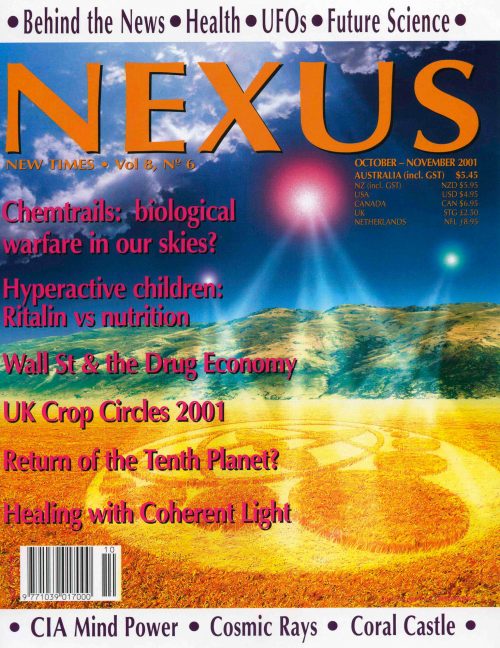 Volume 8, Number 6 – downloadable
$6.60
Volume 8, Number 6 complete issue downloadable pdf file.
Description
LETTERS TO THE EDITOR
Comments from readers on NEXUS-related topics.
GLOBAL NEWS
News you may have missed, from the Pentagon's recent missile test that was rigged with a GPS beacon, to a global taxation system on the agenda.
CHEMTRAILS: COVERT CLIMATE CONTROL?
By William Thomas. In the last few years the skies of US-allied nations have been criss-crossed by military tanker aircraft dispensing lingering chemical-laden contrails. When will governments and the military own up to what's really going on?
A NUTRITIONAL APPROACH TO ADHD
By Simon Best. Western doctors are increasingly prescribing psychostimulant drugs like Ritalin to children they diagnose with attention deficit hyperactivity disorder, instead of adopting a nutritional approach based on essential fatty acids.
HEALING WITH COHERENT LIGHT Part 1/2
By Christa Muths. The knowledge that organic life absorbs light, stores it in the DNA and emits it at a specific frequency for controlling biological processes, has sparked a new healing revolution.
WALL STREET, CIA & THE GLOBAL DRUG TRADE
From Guerrilla News Network. Former LAPD narcotics officer Mike Ruppert gives the lowdown on CIA drug running, Wall Street money laundering and military machinations in Colombia.
SOVIET MIND POWER RESEARCH Part 3/3
By Martin Ebon. The CIA outlined its interest in ESP in 1952 and kept an eye on Soviet progress in parapsychology, but by 1981 the Committee on Science and Technology had called for a serious assessment of developments in US psi research.
SCIENCE NEWS
By Capt. Bruce L. Cathie (Ret.). Latvian 'émigr'é Ed Leedskalnin defied gravity when he built his curious Coral Castle in Florida, USA. Had he rediscovered the ancient science of Earth grid harmonics?
HARNESSING COSMIC ENERGY Part 2/2
By Gavin Dingley. Some technical aspects of Moray's radiant energy receiver remain a mystery, as does the precise nature of the energy it was designed to tap for its limitless power potential.
THE 2001 CROP CIRCLE SEASON
From Andy Thomas and Linda Moulton Howe. By midsummer, the English fields yielded some choice pictograms including a huge pixel-style face and a digitised version of a 1974 Earth message to space.
THE TWILIGHT ZONE
US Colonel Philip Corso reveals a post-Roswell close encounter in this interview with Paola Harris a year before his death; and we zero in on what scientists and mystics are saying about the predicted arrival of a comet or rogue planetoid in 2003.
Books
"Australia's Drinking Water: The Coming Crisis" by John Archer
"Death in the Air" by Dr Leonard G. Horowitz, DMD
"The Hunt for Zero Point" by Nick Cook
"The Templars and The Assassins" by James Wasserman
"The Field: The Quest for the Secret Force…" by Lynne McTaggart
"Vatican Assassins" by Eric Jon Phelps
"How I Overcame Psoriasis" by Kent Trussell
"In the Name of the Gods" by David Elkington
"The Bible Fraud" by Tony Bushby
"Voyage to Curiosity's Father" by Bruce Moen
"The True Third Secret of Fatima…" by Pastor Melo Nzeyitu Josias
"Tsunami: The Underrated Hazard" by Edward Bryant
"I Am Moderately Fond of Australia" cartoons by Somerville
"Spiritual Healing: Scientific Validation…" by Daniel J. Benor, MD
Videos
"Healing the Toxic Domain" with Eve Hillary
"Rediscovering Mary Magdalene" with L.-L. Cannon & D. Tresemer
"Ships of Light: The Carlos Diaz Experience" with M. Hesemann
Music
"This Sentence is True…" by Sheila Chandra
"Red Sands Dreaming" by Global Collective
"Zen Breakfast" by Karunesh
"Soul Makassar" by Tarika
"Baro" by Habib Koit'é and Bamada