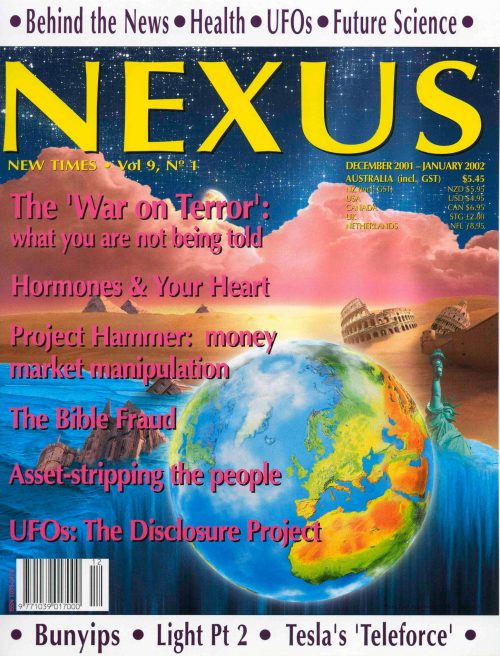 Volume 9, Number 1 – downloadable
$6.60
Volume 9, Number 1 complete issue downloadable pdf file.
Description
LETTERS TO THE EDITOR
Comments from readers on NEXUS-related topics.
GLOBAL NEWS
News you may have missed, including revelations of a serious scientific blunder in a study into BSE in sheep, plus Mike Ruppert's timeline to the terror before and after the events of September 11.
AN OVERVIEW OF THE WAR ON TERRORISM
By Jim Marrs. Questions remain over Osama bin Laden's involvement in the September 11 terrorist attacks in the United States, but we have as much to ask about the vested interests and hidden agendas behind the US-led war on terrorism.
HORMONES AND YOUR HEART
By Sherrill Sellman. Hormone replacement therapy offers no protection for women at risk of heart attack and stroke. Indeed, HRT has actually been shown to cause cardiovascular disease, as the American Heart Association now acknowledges.
ASSET-STRIPPING THE PEOPLE
By Susan Bryce. Australia is following a global trend in introducing assets seizure legislation to combat illegal drug trafficking and terrorism, but at great risk to the civil rights of innocent people.
PROJECT HAMMER Part 1/2
By David G. Guyatt. Off-ledger trading programs worth trillions of dollars, operated by colluding central and international banks, provide vast pools of funding for covert "black budget" projects.
THE BIBLE FRAUD Part 1/3
By Tony Bushby. What has come down to us as the New Testament is not an accurate depiction of the life story of Jesus Christ. So what has the Church of Rome been trying to hide for two millennia?
SCIENCE NEWS
This issue we feature a 1940 New York Times article on Tesla's "Teleforce" defensive wall against air attack; and Robert Nelson's short history of developments in converting water into gasoline.
HEALING WITH COHERENT LIGHT Part 2/2
By Christa Muths. Research into biophotons confirms that when our physical and subtle bodies are communicating coherently, we resonate in harmony with the environment and the Cosmos.
THE BUNYIP MYSTERY
By Gary Opit. Several types of large aquatic animals, popularly called bunyips, have been known to both Aborigines and European settlers in Australia, and at least one species may be a megafauna remnant from Pleistocene times.
THE TWILIGHT ZONE
By Steven M. Greer, MD. The findings of The Disclosure Project, featuring testimony from military "insiders" who have had first-hand experience with UFOs and ETs, prove the reality of the phenomenon and suggest why our governments still hide the truth.
Books
"Hormone Heresy" by Sherrill Sellman
"Vibrational Medicine" by Richard Gerber, MD
"Body of Secrets" by James Bamford
"Sauni'Œre's Model & the Secret of Rennes-le-Ch'¢teau", by A. Douzet
"Physics of the Soul" by Amit Goswami, PhD
"A Hitchhiker's Guide to Armageddon" by David Hatcher Childress
"The Master of Lucid Dreams" by Olga Kharitidi, MD
"The Land of Osiris" by Stephen S. Mehler
"Mayan Genesis" by Graeme R. Kearsley
"The Secret History of Ancient Egypt" by Herbie Brennan
"Fluoride: Drinking Ourselves to Death?" by Barry Groves
"Electronic Theft" by P. Grabosky, R.G. Smith and G. Dempsey
"Secret Weapons" by Cheryl & Lynn Hersha, D. Griffis & T. Schwarz
"Hidden from History" by Rev. Kevin Annett/The Truth Commission
Video/CD-ROM/Audio
"Disclosure Š—– The Video" with commentary by Steven M. Greer, MD
"The Disclosure Project: Briefing Document & Executive Summary"
"Atlantis: Myth or Memory?" with G.-M. Scallion and C. Keyes
Music
Arabic Groove" by various artists
"African Travels" by various artists
"Flaming Star" by Sally Oldfield
"Hall of Beginnings: Fantasy Collection Vol. 1" by Tony O'Connor
"Saturday Night in Bombay" by Remember Shakti