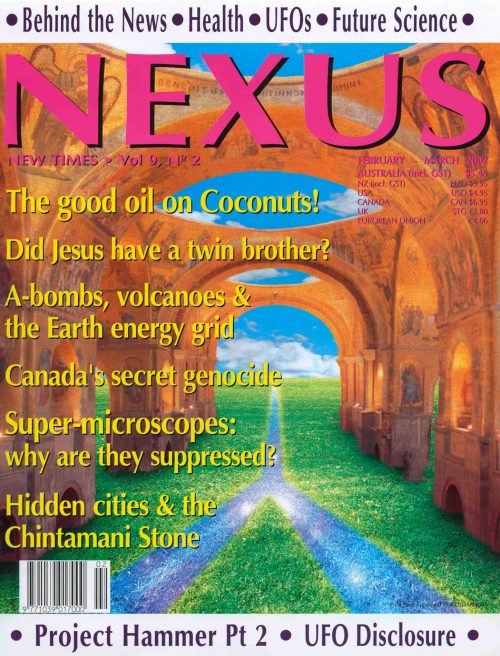 Volume 9, Number 2 – downloadable
$6.60
Volume 9, Number 2 complete issue downloadable pdf file.
Description
LETTERS TO THE EDITOR
Comments from readers on NEXUS-related topics.
GLOBAL NEWS
News you may have missed, including protests over the FDA's stance on toxic chemicals formed in irradiated food, moves to ban all space-based weapons, and plans to give unprecedented powers to Australia's domestic spying agency, ASIO.
THE HEALTH BENEFITS OF COCONUTS Part 1/2
By Mary Enig, PhD. The saturated fatty acids and derivative compounds in coconut oil have powerful antimicrobial and functional properties that can help restore and support good health and assist sufferers even of AIDS, cancer and diabetes.
PROJECT HAMMER Part 2/2
By David G. Guyatt. Off-ledger trading programs have been used by a cabal of international bankers and intelligence operatives to manipulate the gold price and channel funds into black-budget projects.
THE BIBLE FRAUD Part 2/3
By Tony Bushby. The Church fathers had a vested interest in suppressing the belief that Jesus had a twin brother and that they were the sons of Tiberius before he became Emperor of Rome.
THE CANADIAN HOLOCAUST
By Rev. Kevin D. Annett. Church and government authorities, through the Canadian residential schools system, implemented a policy of genocide against the native people, but the perpetrators are still to be brought to justice for their crimes.
SUPER-MICROSCOPES & MORPHOGENESIS
By Greg Fredericks, ND. Many super-microscopes that helped revolutionise our understanding of biology in the 20th century were suppressed by the medical mafia and their inventors were persecuted.
SCIENCE NEWS
Allen Caggiano spent years developing a high-efficiency fuel implosion system before he was imprisoned on false charges, presumably because his invention posed a threat to vested interests.
VOLCANIC ACTIVITY & NUCLEAR TESTS
By Captain Bruce Cathie (Retired). Volcanic eruptions and nuclear detonations can be triggered as a function of the harmonic geometric relationship between the Earth and Sun at any given time.
TOWARDS FULL DISCLOSURE ON UFOs
By Theresa de Veto for Surfing The Apocalypse. Retired US Army/DIA analyst John Maynard had access to highly classified files which confirm the existence of UFOs and alien beings, and now urges the government and military to come clean.
THE TWILIGHT ZONE
This issue, we feature the Russian artist/mystic Nicholas Roerich's connection with the mysterious Chintamani Stone and his search for the fabled lost kingdom of Agharta and city of Shambhala.
Books
"K2: Quest of the Gods" by Ralph Ellis
"The Orion Prophecy" by Patrick Geryl & Gino Ratinckx
"Princess Diana: The Hidden Evidence" by Jon King & J. Beveridge
"AltaiŠ—–Himalaya: A Travel Diary" by Nicholas Roerich
"The Healing Miracles of Coconut Oil" by Bruce Fife, ND
"You Are Being Lied To" edited by Russ Kick
"Cancer: Cause, Cure and Cover-up" by Ron Gdanski
"The A.T. Factor: Piece for a Jigsaw Part III" by Leonard G. Cramp
"The World's Sixteen Crucified Saviors" by Kersey Graves
"The Atlantis Secret" by Alan F. Alford
"From the Motherland to the Mothership" by Shurlene B. Wallace
"Crop Circles, Gods and Their Secrets" by Robert J. Boerman
"Tempest & Exodus" by Ralph Ellis
"New Zealand's Hidden Past" by Ross Wiseman
CD-ROMs
"The Encyclopedia of Extraterrestrial Encounters" ed. by R.D. Story
"Cosmic Artist: Crop Circle Photographs" by Colin Andrews
Music
"Realise" by Karsh Kale
"People's Colony No. 1" by Temple of Sound & R.-M. Qawwali
"Euphoria" by Ian Cameron Smith
"Through Windows & Walls" by Peter Kater & R. Carlos Nakai
"African Odyssey" by various artists