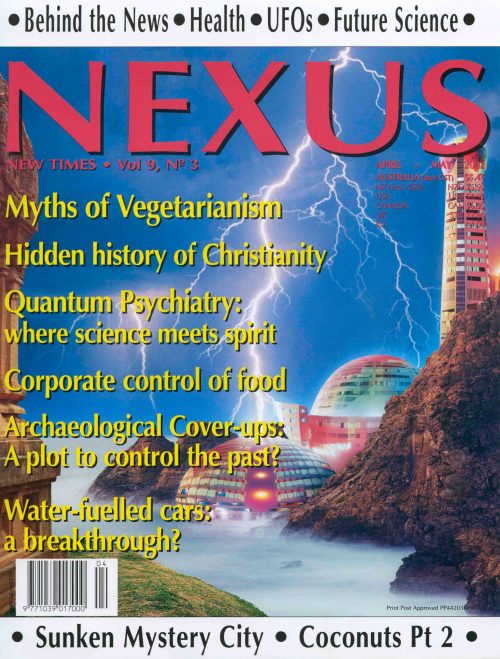 Volume 9, Number 3 – downloadable
$6.60
Volume 9, Number 3 complete issue downloadable pdf file.
Description
LETTERS TO THE EDITOR
Comments from readers on NEXUS-related topics.
GLOBAL NEWS
News you may have missed, including the official announcement of a "shadow" US government, European intelligence views on September 11 events, and WTO negotiations for a new MAI.
POPULATION & FOOD CONTROL
By Steven Ransom. Multinationals, hand in hand with government bureaucracies, UN agencies, the World Bank and private foundations, are gaining control of entire populations and the food they eat.
THE MYTHS OF VEGETARIANISM Part 1/2
By Stephen Byrnes, PhD. According to the medical evidence, strict vegetarian diets cannot provide all the vitamins and minerals that animal foods do, and so are not a recipe for good health.
THE HEALTH BENEFITS OF COCONUTS Part 2/2
By Mary G. Enig, PhD. Coconut oil's saturated fatty acids and derivative compounds have great benefits for the immune system and metabolism and are useful in treating AIDS and CFS.
THE BIBLE FRAUD Part 3/3
By Tony Bushby. The Roman Church incorporated into Christian beliefs the "Krist" concept, which was part of diverse mystery traditions including those of the Essenes, Druids, Greeks and ancient Egyptians.
SCIENCE NEWS
From The Freedom Reclamation Project via KeelyNet. Featured here are preliminary plans for a "water-burning" system that can be used to power a car without gasoline. Experiment at your own risk!
QUANTUM PSYCHIATRY
By Dr Andrew Powell. A 21st-century science of mind needs to incorporate findings from quantum physics and knowledge of non-physical realities for a clearer perspective on mental health and illness.
ARCHAEOLOGICAL COVER-UPS
By Will Hart. The experiences of archaeologists, anthropologists, geologists and alternative thinkers who have challenged the orthodoxy suggest there really is a plot to keep anomalous findings buried.
THE TWILIGHT ZONE
Linda Moulton Howe interviews Vedic historian Michael Cremo about the discovery of a submerged city off northwestern India, its fossils and artefacts carbon-dated to at least 9,500 years ago.
Books
"My Quest for the Yeti" by Reinhold Messner
"September 11" by Noam Chomsky
"Blindsided Š—– Planet X Passes in 2003" by Mark Hazlewood
"The Lost Book of Enki" by Zecharia Sitchin
"Quest for Zero Point Energy" by Moray B. King
"The Invisible College" by Robert Lomas
"Them: Adventures with Extremists" by Jon Ronson
"Trust Us, We're Experts!" by Sheldon Rampton and John Stauber
"Heart Frauds" by Charles T. McGee, MD
"The Healer" by Jack Temple
"Day of Deceit: FDR and Pearl Harbor" by Robert B. Stinnett
"Acid: A New Secret History of LSD" by David Black
"Underworld" by Graham Hancock
"Love and Death in the Valley" by Rev. Kevin D. Annett
"All Fall Down" by William Thomas
"Ramtha, A Master's Reflection on the History of Humanity"
Music
"Guitarra del Fuego" by Johannes Linstead
"Music from the Coffee Lands II" by various artists
"Ziroq" by Ziroq
"Chakra Suite" by Steve Halpern
"Lotus Groove" by various artists