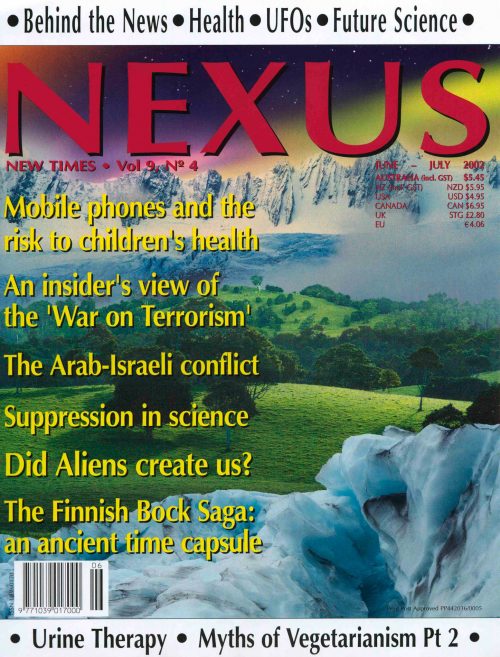 Volume 9, Number 4 – downloadable
$6.60
Volume 9, Number 4 complete issue downloadable pdf file.
Description
LETTERS TO THE EDITOR
Comments from readers on NEXUS-related topics.
GLOBAL NEWS
News you may have missed, including a warning about an imminent Earth magnetic pole flip, risks to water integrity and fertility, and legislation designed to control the sale of herbal medicines in Europe.
INSIDER's VIEW OF THE "WAR ON TERRORISM"
By Michael C. Ruppert. The United States and several other governments had foreknowledge of the September 11 terrorist attacks, says Mike Vreeland, a former spy for US Naval Intelligence.
HISTORY OF THE ARAB-ISRAELI CONFLICT
By Joel Beinin and Lisa Hajjar. Today's Palestinian-Israeli crisis has its roots in the struggle over land, the deceit of colonial powers and the UN's failure to implement its 1947 partition plan for two states.
HEALING WITH URINE THERAPY
By Natalia Perera. "Shivambu Shastra", the ancient Ayurvedic medicinal practice of using urine for personal health therapy, is gaining acceptance as its myriad benefits are explored by modern science.
THE MYTHS OF VEGETARIANISM Part 2/2
By Stephen Byrnes. Anthropological studies show that tribal peoples around the globe have never been strict vegetarians but eat animal products from a range of sources to maintain good health.
THE SUPPRESSION OF DISSENT IN SCIENCE
By Will Hart. Even in these "enlightened" modern times, scientists are denigrated if they propose theories and ideas that are at odds with the establishment-approved view of the world.
SCIENCE NEWS
By Don Maisch. The evidence is stacking up that mobile phone radiation emissions are dangerous to health, particularly that of children, and concerned voices are calling for a precautionary approach.
CREATION BY OUTSIDE INTERVENTION
By Lloyd Pye. Darwinists, Creationists and Intelligent Design proponents cannot explain the emergence of humans or domesticated plants and animals. Did outside agents, extraterrestrials, play a part in modifying the genetics of life?
THE BOCK SAGA: AN ANCIENT TIME CAPSULE
By Les Whale. An ancient Finnish saga, passed down orally through the Bock family, speaks volumes about a common source of language and culture that goes back untold thousands of years.
THE TWILIGHT ZONE
Paradigm-expanding items, including speculations on an ancient 3D map found in the Urals, evidence for settlements in ice-age Tibet, and validation of Billy Meier's claim via the Pleiadians that Ecuador's Mt Chimborazo is the world's highest mountain.
Books
"Darwin's Mistake" by Dr Hans J. Zillmer
"The Afterlife Experiments" by Gary E. Schwartz, PhD
"Emissary of Love" by James Twyman
"The Truth Behind the Christ Myth" by Mark Amaru Pinkham
"Blast It!: How to Eliminate Diseases, Disorders…" (a Rife manual)
"Triumph over Cancer" by Agi Lidle
"Cellular Telephone Russian Roulette" by Robert C. Kane
"Netherworld" by Robert Temple
"Plague, Pestilence and the Pursuit of Power" by Steven Ransom
"Health Wars" by Phillip Day
"Atlantis & Power System of the Gods" by Childress and Clendenon
"Watt's the Buzz?" by Lyn McLean
"Disclosure" by Steven M. Greer, MD
"How the Sun God Reached America" by R. de Jonge & J. Wakefield
Videos
"Crop Circles: The Research" by B. Janssen & J. Ossebaard
"Contact" produced by Bert Janssen and Janet Ossebaard
"John of God" by Mark Thomas
"Dowsers Down Under" with Alanna Moore
Music
"Cello Blue" by David Darling
"Big Drum: Small World" by Dhol Foundation
"Latin Groove" by various artists
"The Afro-Indian Project" by Ravi, Hossam Ramzy and others
"Quiet Days" by various artists