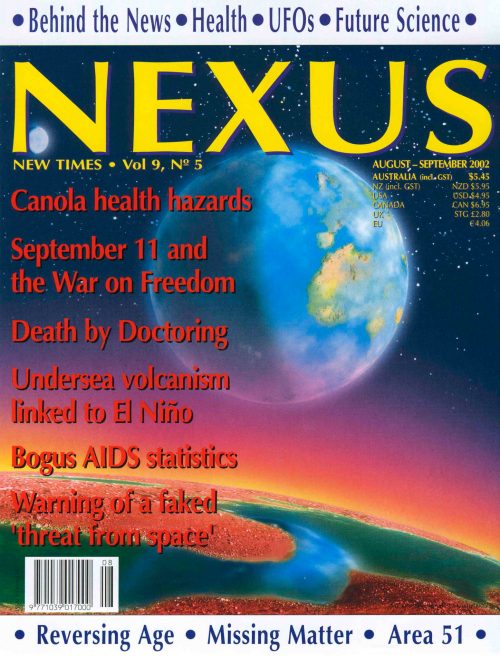 Volume 9, Number 5 – downloadable
$6.60
Volume 9, Number 5 complete issue downloadable pdf file.
Description
LETTERS TO THE EDITOR
Comments from readers on NEXUS-related topics.
GLOBAL NEWS
News you may have missed, including the GE/GM threat to organic farming, a proposed ID card to combat identity theft in the UK, and the blunders of George W. Bush on his recent trip to Europe.
911 & THE WAR ON FREEDOM
By Nafeez Mosaddeq Ahmed. Evidence points to powerful US interests having much to gain from the events of September 11, as is being seen in the grab for land and influence in and around Afghanistan.
THE ILLUSION OF HIV & AIDS STATISTICS
By Prof. Jens Jerndal. Statistics on the global spread of so-called HIV and AIDS are the product of flawed science, sampling and testing as well as vested interests intent on promoting a pandemic.
DEATH BY DOCTORING Part 1/2
By Steven Ransom. Orthodox anticancer treatments like chemotherapy have dismal success records, yet medical practitioners still inflict them on their patients and ignore the proven alternatives.
THE GREAT CON-OLA
By Sally Fallon and Mary G. Enig. Canola, an oilseed crop bred from rapeseed, has undesirable health effects when used as the main source of dietary fats contrary to the marketing hype.
THE DOTTO RING Part 1/2
By Dr Gianni Dotto. The secret of the Hunzas' famed good health and longevity could be tapped with a thermionic couple device that recreated the mountainous area's special magnetic environment.
SCIENCE NEWS
By Dr Jean-Pierre Petit. As an attempt to explain the Pioneer space probes' anomalous behaviour beyond our solar system, the "double universe" model is light years ahead of the "dark matter" hypothesis.
THE CHANDLER WOBBLE
By Michael W. Mandeville. The constant changing of the north and south poles as the Earth wobbles in regular cycles around its spin axis is responsible for major tectonic and volcanic activity as well as the El Ni'±o oscillation and global warming.
FUSION POWER AND ET SPACE TECHNOLOGY
Interview by Robert Stanley. Space technology consultant David Adair can discuss his 1971 visit to Area 51 because, being a minor at the time, he did not have to sign a national security oath.
THE TWILIGHT ZONE
Paradigm-changing items including Dr Steven Greer's warning of a possible hoaxed threat from space, and a report on a district in Chile that's become an official UFO tourism zone.
Books
"The Reconnection: Heal Others, Heal Yourself" by Dr Eric Pearl
"The War on Freedom" by Nafeez Mosaddeq Ahmed
"The Hidden Drug: Dietary Phosphate" by Hertha Hafer
"Natural Solutions to PMS" by Marilyn Glenville, PhD
"Practical Psychic Self-Defense" by Robert Bruce
"The Holy Order of Water" by William E. Marks
"Getting Rid of Ritalin" by Robert Hill, PhD, & Eduardo Castro, MD
"The Stone Puzzle of Rosslyn Chapel" by Philip Coppens
"The Sabian Symbols as an Oracle" by Lynda Hill
"The Brookhaven Connection" by Wade Gordon
"The Handbook of Rife Frequency Healing" by Nina Silver, PhD
"The New Rulers of the World" by John Pilger
"Rogue State" by William Blum
Videos
"The Truth and Lies of 9-11" with Mike Ruppert
2002 NEXUS Conference Videos
Music
"Taiko Ne Sekai" by TaikOz
"Once in a Red Moon" by Secret Garden
"Mondo Rama" by Jai Uttal and the Pagan Love Orchestra
"Vhunze Moto" by Oliver Mtukudzi
"Planet Yoga" by various artists