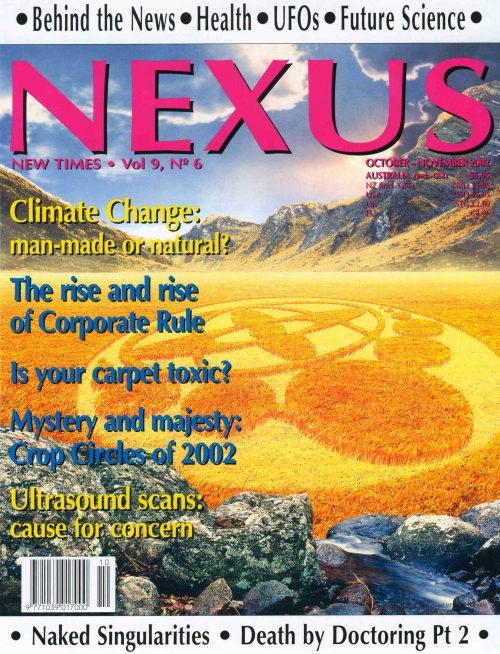 Volume 9, Number 6 – downloadable
$6.60
Volume 9, Number 6 complete issue downloadable pdf file.
Description
LETTERS TO THE EDITOR
Comments from readers on NEXUS-related topics.
GLOBAL NEWS
News doing the rounds, including evidence linking vaccines to childhood diabetes, suspicions of a pre-invasion CIA/DIA electronic heist on Iraq's central bank, and eyewitness reports of an awesome US secret weapon used in the streets of Baghdad.
CORPORATE RULE AND POPULAR PROTEST
By Richard Heinberg. This short history of how corporations came to rule looks also at the rise of the anti-globalisation movement with reference to the American Populist movement of the 1890s.
ULTRASOUND: NOT SO SAFE AND SOUND
By Dr Sarah J. Buckley. It's been promoted as being risk-free and giving peace of mind to prospective parents, but ultrasound's biological and psychological track records are far from glowing.
THE IPCC's ARTFUL BIAS ON CLIMATE CHANGE
By David E. Wojick, PhD. UN scientific reports mislead policymakers and the media into thinking that planetary climate change is solely the result of human interference rather than natural variation.
DEATH BY DOCTORING Part 2/2
By Steven Ransom. Vitamins C and B17 (also known as laetrile) have a history of success in cancer prevention and treatment, and a history of suppression by the medical orthodoxy.
UNCOVERING THE FACTS ON TOXIC CARPET
By Jenny Hawke. Carpets, both old and new, pose serious hazards to health because they offgas volatile chemical compounds, trap dust mite allergens and act as a sink for heavy metal residues.
SCIENCE NEWS
By Carl Hollingsworth and Henry Hallmon. Based on the geometry of the "naked singularity", this new model of physical organisation has the same rules for an entire galaxy as for a single cell.
THE DOTTO RING Part 2/2
By Dr Gianni Dotto, with notes from Jerry Decker. Knowledge of the structure and function of DNA and RNA is necessary if we're to understand how an inductive coil like the Dotto Ring can recharge cellular energy levels and promote longevity.
THE PICK OF THE 2002 CROP CIRCLES
By Andy Thomas. The season was slow to start in England, but it brought forth some beautiful circular formations and a few surprises, including a depiction of an ET holding out an inscribed disc.
THE TWILIGHT ZONE
Paradigm-expanding items, including research into alleged alien artifacts kept in the US Capitol in the late 1930s, leaked documents that shed light on official secrecy surrounding UFOs, and a report on the massive walls being constructed around Giza.
Books
"Vital Signs" by Andy Thomas
"Secrets in the Fields" by Freddy Silva
"Stargate Chronicles" by Joseph McMoneagle
"The Best Democracy Money Can Buy" by Greg Palast
"Conversations with the Body" by Robyn Elizabeth Welch
"The Biology of Transcendence" by Joseph Chilton Pearce
"Evidence: The Case for NASA UFOs" by David Sereda
"Looking for Orthon" by Colin Bennett
"The Round Towers of Atlantis" by Henry O'Brien
"Before the Flood" by Ian Wilson
"The Wild Genie" by Alexandra Pope
"UFOs and the National Security State" by Richard M. Dolan
"Battling Big Business" edited by Eveline Lubbers
"AIDS: A Second Opinion" by Gary Null, PhD
CDs & Videos
"Suil's Island" by Telma G. Dufton
"Michael Moore, Live in Santa Rosa, March 4, 2002"
Music
"Moffou" by Salif Keita
"Deep Space" by Japetus
"The Gift" by Hassan Hakmoun
"Return to Serenity" by various artists
"Windseeker" by Tony O'Connor