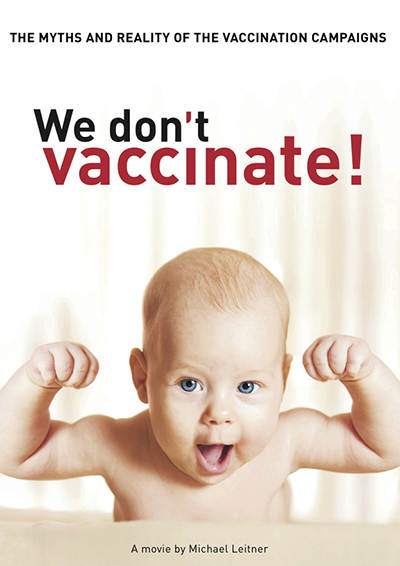 We Don't Vaccinate (DVD)
$30.00
We Don't Vaccinate, by Michael Leitner
Description
This documentary is the result of a community-funded project with support from several European health initiatives. Conceived and filmed by Michael Leitner and produced by Daniel Trappitsch, it's a hard-hitting, informative and well-presented documentary that includes interviews with parents, doctors, medical researchers and natural therapists. The film has English translations added to the German soundtrack. It goes into the history of vaccines and the toxins they contain. The statistics on vaccine damage will open your eyes if you don't know the extent of adverse reactions. The interviews are presented in a calm, sensitive and straightforward manner. Its strong conclusion is that the practice of vaccination is not based on science but on pure belief—and propaganda.
One of the interviewees, Klaus Hartmann, MD, worked for the Paul Ehrlich Institute in Germany for 10 years but left over attempts to explain away deaths of children due to the Hexavac? vaccine. He stated that doctors don't report adverse reactions because doing so would compromise their professional reputations.
Simone Gahse said that although her child regressed further every time she was vaccinated, the doctors absolutely refused to consider the vaccines as the cause. She eventually put a stop to the vaccinations. Bärbel Engelbertz, biologist, speech therapist and mother of a vaccine-damaged child, agreed that doctors don't accept that vaccines do harm.
Daniela Gerlemann saw the effects of the vaccines on her first child and decided not to take her second child to be vaccinated. Her first daughter was a perfectly happy youngster until the vaccines began to affect her. Inga Lühmann, a social worker helping disabled children, commented that two out of 12 kids in her care are obviously vaccine damaged.
Researcher Petra Cortiel studied the records of 1,433 unvaccinated children, comparing them with those of vaccinated children. She found, for example, that 15% of the vaccinated had attention deficit hyperactivity disorder (ADHD) while only 0.8% of the unvaccinated kids had ADHD.
Bert Ehgartner, journalist and director of The Age of Aluminium, said he blames aluminium adjuvants in vaccines for much of this huge health problem. Germany's TOKEN Study looked at deaths after vaccination in children aged 2–24 months, but Ehgartner said the findings were altered by the Robert Koch Institute to show no deaths, whereas the English translation showed hundreds.
The DVD finishes with Johann Loibner, MD, saying: "The authorities don't interfere if the parents feed their children junk food daily and allow them to have sugared drinks for breakfast. No one cares. But when one single vaccination is missed in the vaccine booklet, panic suddenly grips them and they are indignant. This is just ignorance and hypocrisy." We Don't Vaccinate is a belief-changing DVD that's definitely worth showing to your family and friends.