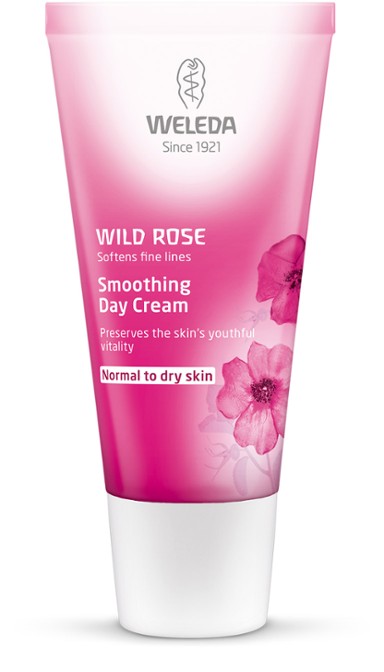 Wild Rose Smoothing Day Cream
$36.95
Weleda's Wild Rose Smoothing Day Cream 30ml
Effective skin care for your thirties, to protect against the first signs of ageing
Borrow the velvet smoothness of rose petals and maintain the youthful vitality of your skin, for beautiful radiance, every day.
Description
Dry skin needs help to maintain vitality through the busiest days of your life. This rich cream combines two beauties – organically-grown wild musk rose seed oil, to encourage regeneration, while soft petals of damask rose add intoxicating fragrance. Skilfully blended herbal ingredients mean this cream effectively resists the first signs of ageing, softening early lines and maintaining skin tone and bounce. Has a little help ever been so graciously offered?
Benefits
Aids skin growth, helps to stimulate cell renewal, moisturises, softens first lines and smoothes the skin. Preserves elasticity and vitality, effectively defending against the first signs of ageing. For daytime use – can be worn under make-up. Certified natural, free from synthetic preservatives, fragrances, colourants or raw materials derived from mineral oils
How to use
Apply each morning to the face, neck and décolletage after cleansing and toning. Highly suitable for use under make-up – just leave to sink in for a moment. For a lighter moisturiser, try Wild Rose Smoothing Facial Lotion for normal to combination skin.