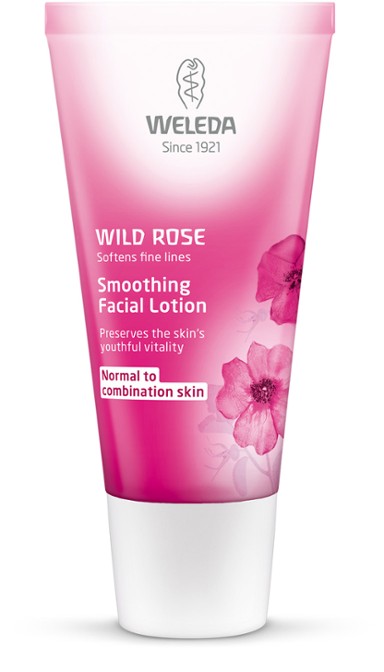 Wild Rose Smoothing Facial Lotion
$36.95
Weleda's Wild Rose Smoothing Facial Lotion 30ml
A gentle moisturiser to smoothe and protect skin through your thirties
Borrow the bloom and fragrance of roses at any time of the day or night, with this light, quickly absorbed Facial Lotion.
Description
A rose in full bloom – that's just where you are in life when you reach for this lightest of moisturisers. In our Wild Rose Smoothing Facial Lotion we use oil from organically-grown musk rose seeds, blended with extracts from toning horsetail and precious myrrh, and made still more indulgent to your senses with fragrance from damask rose petals. Your skin gains vitality, radiance and velvet softness to reflect your place in the world.
Benefits
Aids skin growth processes and gives effective defence against the first signs of ageing – moisturises, softens fine lines, preserves vitality, tone and bounce. Suitable for use under make-up. Good skin compatibility dermatologically tested. Certified natural, free from synthetic preservatives, fragrances, colourants or raw materials derived from mineral oils.
How to use
Apply morning and evening to the face, neck and décolletage after cleansing and toning. Highly suitable for use under make-up – just allow to sink in for a moment. For richer moisturising, try Wild Rose Smoothing Day Cream.