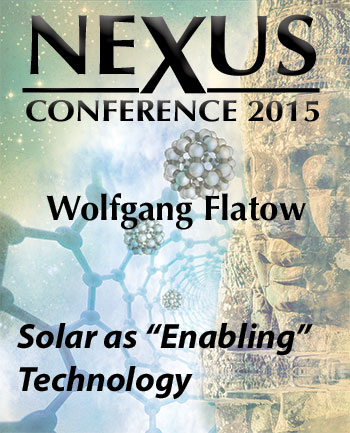 Wolfgang Flatow – NEXUS Conference 2015
$29.00
Solar as "Enabling" Technology by Wolfgang Flatow at the 2015 NEXUS Conference. Available in either PAL or NTSC format.
Description


Wolfgang Flatow (Australia) Solar as "Enabling" Technology
Solar and Alternative Energy Researcher and Inventor since the mid 70s, Wolfgang Flatow explores our potential solar future which he sees only a stone's throw away. He is an independent solar energy consultant with Hybrid Sunshine and has launched his own solar robotic barge solution to oceanic plastic pollution. Solar and alternative energy does more than just replace crude fossil and nuclear energy sources—it is an enabling technology (in the same way it enables satellite communications). He also shows how we can benefit from greater engagement with and understanding of solar power using his online Solar Energy Simulator.